LG KG800 Chocolate Phone
This is the all new LG KG800 or otherwise nicknamed the LG Chocolate phone because it looks like a chocolate bar, this little beauty has a hidden LCD screen and touch keypads that look and feel stylish. The screen and keypads glow red when in use which looks absolutely stunning; the LG Chocolate made a massive impact in Korea this is why it is understandable that it is here with us now.
This slider phone has a 1.3 megapixel camera and a 240×320 colour screen that as said above looks stunning when lit (it will knock your socks off), The European phone will differ slightly to the Korean version but cannot see major change. It has an MP3 player and 512MB internal memory and is 14.5mm thick.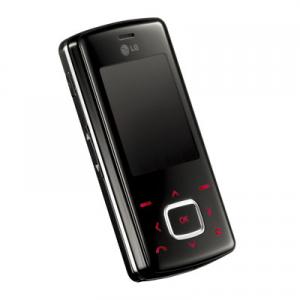 The Chocolate phone from LG is an amazing phone that is pure class and if we are not mistaking is going to be one of the top selling phones on the market.
If you love this phone then we would recommend buying here (just click any of the links below) –
– Carphone Warehouse (Monthly Contracts)
– Carphone Warehouse (Pay as you Go)
– Play.com
Do you want a piece of the Chocolate? Be nice to know how many people would want this phone. Send in your comments in the box below. Thanks