Nokia 5500 Press Release of the Sport Phone
They have designed so many mobile phones for different aspects of life, fashionable, business plus good photography phones and now they have designed one specifically for sports. This is a nice sleek and yet still stylish phone which is mainly design for the athlete but we would have to say it is still good enough for everyday use.
Mobile communications is getting so much better and the Nokia 5500 is just the start of many phones for different lifestyles we lead, if you lead an urban lifestyle then this has to be the phone that will rock your boat.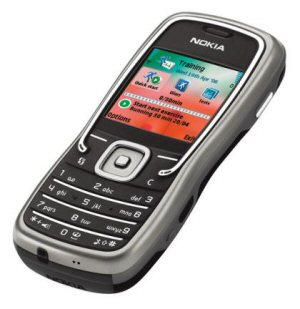 There is a single button on the 5500 that activates three modes which are a Phone Mode to stay in touch, Music Mode and the Sports Mode which is a great because just the click of a button makes life so much easier.
Once you are in Sports Mode it will help you along the way in your training workouts because it the Nokia Sports has an integrated pedometer which monitors the distance you have walked plus the calories you have burnt.
This mobile phone from Nokia is made of a stainless steel casing plus with rubber grips which makes it very strong and durable.
Features/Specs –
– Tri-band GSM 900/1800/1900
– GPRS and EDGE support – EDGE Class 10 / GPRS Class 10.
– 3D Motion Sensor which is used in pedometer training and games
– 107 mm x 45 mm x 18
– 103g
– 208 x 208 screen resolution
– 2.0-megapixel camera with up to 4x zoom
– USB Mass Storage class support
– MP3, AAC, AAC , eAAC and WMA music playback
– 3 Modes with physical button switch and which are themed in different colours throughout the interface
– Built in Flashlight
– FM Stereo Radio
– Symbian OS v9.1
– Series 60 3rd Edition
– Bluetooth wireless connectivity version 2.0+EDR
– Infrared
– MicroSD card up to 1GB