Nokia E61 The Ultimate Business Phone
The Nokia E61 is a superb phone for business for the professinal everyday life with the competitive edge that does all the hard work for you. So why is it so good, well let us begin by saying the E61 is of a great design and is very compatible and not forgetting very easy to use once played around with, the email capabilities are very good indeed in which supports Microsoft Word, PowerPoint, Exel, Microsoft Office 97, 2000, 2003 and XP plus it is compatible with Zip manager and Adobe Reader.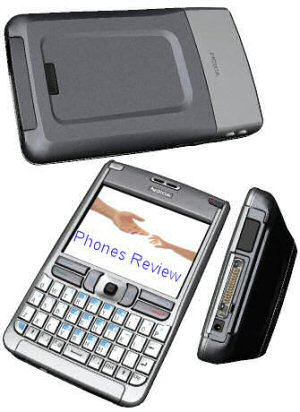 You can send and receive emails whilst talking on the E61 plus you can access the up to date calendar and contact information, the email function can also work in the offline mode which means you can read and write emails when the network in unavailable.
The E61 is not as large as some of the phones with as much features as this one so we say it is a nice size phone considering what it can do, it has a full keyboard with backlight, a large and we mean large landscape screen plus a very easy to use one hand navigation and one press feature to access email function and email LED indicator.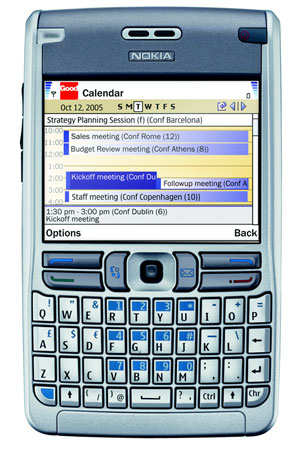 The business benefits of the Nokia E61 is endless with features and specs for example a notification of a new email via the LED indicator in which you can view either portrait or landscape via the large screen. You can manage you work flow between meetings whicle on the move where ever you are, manage personal information and make calls away from your office plus very fast data connectivity.
Nokia N61 Features/Specs —
– Weight — 144 grams (including battery)
– Size — 117 x 69.7 x 14mm
– Expandable Memory — 64MB hot swappable miniSD card
– Active Matrix Display
– 16 Million Colours ( 320 x 240 pixels)
– Light Sensor for the keypad display lighting control
– 2 keys that are very soft with a 5 way joystick
– Full Keyboard
– MMS for text, voice, video clips, images
– POP, IMAP, SMTP ans MS Active Sync
– Voice dialing
– Enhanced Voice Commands
– Dedicated Voice key for voice recording
– Push To Talk
– POP Port Interface
– USB Port
– Bluetooth
– Real Video and Real Audio
– Multi Connectivity — WLAN
– EGPRS Class B, MSC 11
– GSM, GPRS
– Advanced Device Management
– Speed Dialing of up to 8 names
– Call Waiting, Call Divert, Call Time and Call Hold
– Automatic Redial
– Caller ID with image
– Conference Calling
– Vibrating Alert
– Handsfree Speaker
– Standby Time — (GSM up to 17 days) — (WCDMA up to 10 days) — (GSM/WCDMA and WLAN up to 9.5 days)
– Talk Time — (GSM up to 9 ½ hours) — (WCDMA up to 5 hours) — (VoIP up to 4 ½ hours)
– Alarm Clock
– MP3 and AAC Music Player
– Auto Lock
– Calculator
– Note Pad
– Wi-Fi
– Infrared
– Multiple Languages
– Custom graphics/Ringtones
– Web Browser
– Side Keys
– To Do List
– Java
So will this be the phone for you, we recommend it to all you business minded people