Announcing the Classic Sega Paperboy Game for your Mobile Phone
As we all know classic games are coming back with more and more popularity than ever before, do you remember the classic game Paperboy well it is coming back and now to mobile phones across the world, extra extra read all about it here.
Yes this is right Paperboy can be played on your mobile phone which is brilliant, the game is about a boy on a bike who deliver papers to neighbours whilst getting chased down the street by mad dogs, the game on the mobile phone is not any better than the original has they did not invent it but just to mimic the same game but for mobile formats as the console game was.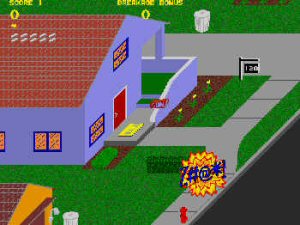 As of above the boy on the bike delivers papers to subscribers of the paper but the non subscribers get kind of vandalized but the paperboy must avoid hazards.
You will just love this game it is fun and yes addictive.
You can buy the original Paperboy Game here –
– eBay UK – original for Video & PC Gaming
– eBay USA – original for Video & PC Gaming
– Play.com – For Mobile