Blackberry 8700g High Performance Wireless Handheld Phone
This is the latest Blackberry called the 8700g which as very high performance which has fantastic resolution screen and a nicer but smaller keyboard which is very nice to use. It has a fantastic feature of which is the Push Email which is quick and simple to use.
For quick navigation the Blackberry 8700g has a thumbwheel and ESC button plus a back button on the side of the handheld device which is handy very handy, the display screen is very bright and clear and has got to be the best Phones Review has come across with a 320 x 240 resolution and 65,536 that is good.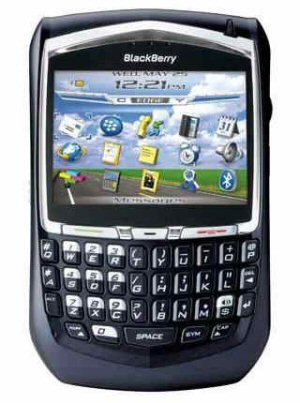 Like most Blackberry models this is quite compact and sleek but still with all the major functions you need for example the better Web browsing experience is very good. The design of this model is been done to give you more quality and feel whilst using and to look at of course but this is design to be functional not a handheld unit to look at.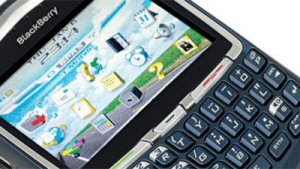 The 35 key keyboard works very well and with the keys now raised a little gives you a more responsive feel but and a downside with the keys raised it does seem to creek a little when pressing but that is not the end of the world is it, there is also a mini USB connector for charging, upgrades and even desktop sync.
The performance gets better with the Intel Xscale 312 MHz processor and with 16 MB of SDRAM makes things that little bit quicker this is a PC in your pocket.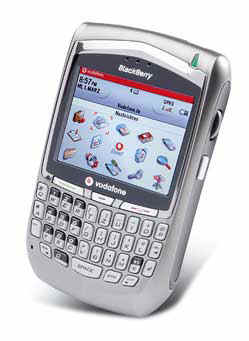 Features/Specifications —
– MMS and SMS Messaging
– POP3, IMAP and SMTP, real time email client
– Full HTML web browsing — one touch access
– Polyphonic & MP3 ringtones
– Brickbreaker Pre-loaded, Downloadable Java Titles
– Customizable Graphics
– GPRS, EDGE and GSM
– 64 MB flash memory
– 16 MB SDRAM
– Embedded RIM wireless modem
– Password protection and keyboard lock
– Intuitive icons and menus
– LED indicators
– Thumb operated track wheel and ESC key
– QWERTY Keyboard with 35 keys
– MP3 Player
– Microphone
– Speakers
– Intel 312 MHzXScale PXA901 Processor
– Built-in QWERTY Keypad
– Bluetooth
– Easily synch w/ Microsoft Outlook
– Speakerphone
– 850/900/1800/1900 MHz quad band
– Color display
– Backlit screen & keyboard
– Wireless address book back-up
– Address book
– Calendar
– Organizer
– Vibrating alert
– AOL, Yahoo!, MSN, and ICQ Instant Messenger
– Up to 4 hours talk time
– Up to 16 days standby time
– Large with bright high resolution LCD colour screen with light sensing technology
320 x 240 pixel color display
– 4.3 x 2.7 x 0.77 inches
– 4.7 ounces
Phones Review Likes —
– Push Email
– Very good battery life
– QWERTY Keyboard
– The screen is absolutely crystal
– Very good performance
Phones Review Dislikes —
– Keyboard creeks when pressing keys
– No multimedia
– No card slot