Netgear Skype WiFi SPH101 VoIP Phone
Now this is a nice phone that looks and works well and the best thing is you do not need a PC, this is a mobile Wi-Fi phone that lets you make free internet calls to anyone in the world who has Skype. The Netgear Skype WiFi SPH101 VoIP phone is great technology at your fingertips with the power of VoIP and wireless technology added together gives you the perfect product to stay in touch.
The way is works is simple — You can use this phone anywhere as long as there is a WiFi signal which then lets you call all of your Skype friends and users for free yes free with no monthly contracts and all that rubbish just pure and simple free.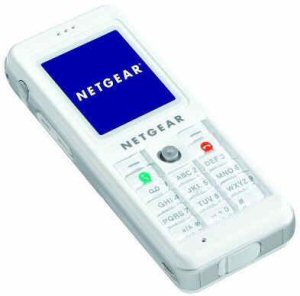 You can be anywhere using this phone if there is WiFi signal you could be at home in the office, internet café you name it, this phone comes with software pre-loaded which means soon as you get it you can use it straight away, just enter your Skype username and password and your away.
If you want to call anyone else that is not on Skype for example another mobile or landline you can but this costs not much but it costs and you can get this set up through the SkypeOut Option.
Why is it so good? —
1. Manage the contacts list to see who is available
2. Every call is protected with a secure encrypted WEP Wi-Fi security
3. Connect and call anyone on landline and or mobile phone
4. No PC required
Specifications —
– 3 hours talk time
– 50 hours standby time
– Security: Hardware-based Wired Equivalent Privacy (WEP) 40/64-bit and 128-bit, and WPA-PSK
– Network connection: Wireless 11g
– Network speed: 1, 2, 5.5, 6, 9, 11, 12, 18, 24, 36, 48, 54 Mbps
– Power supply: Battery pack (included)
– Weight: 0.25 pounds with battery
– Standard capability: 802.11g standard compliant
– Input: USB client only for charging
– Dimensions: 46 x 110 x 21 millimeters / 1.81 x 4.33 x 0.83 inches (WxHxD)
– Warranty: 1 year