Motorola C139 Mobile Phone with 11 Hours Talk Time
The Motorola C139 is a fantastic little phone which some will like and some may not but our views are it is a great little phone; yes ok it does not have a camera but to us that are no great loss because you can still phone people. It has pretty much all you need really and it is very straightforward.
It does have a great feature of a very bright colour display and a superb zoom font that increases in size of the characters when you are calling someone, there is text messaging and very fast iTap software that can predict the words you are punching in.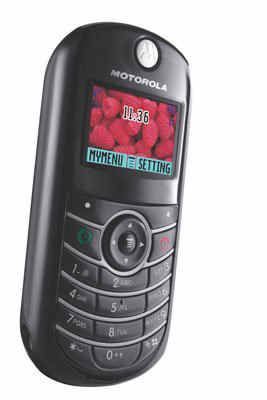 Now here comes the best bit yes ready for it — 11 hours or 700 minutes of talktime and 450 hours standby now that is very good indeed.
Motorola C139 Specifications —
– GSM 900 / GSM 1800
– TFT, 65K colors — 96 x 64 pixels
– Monophonic Ringtones
– Composer, Download Customization
– Vibration
– 100 Entries to the phonebook
– SMS Messaging
– Games
– iTap
– Calculator
– Currency Converter
– Calendar
– Stopwatch
– 85 grams
– 100.6 x 45.6 x 21.8mm
How about looking below if you are thinking of buying a Motorola C139 at very low prices —
– Play.com
– Carphone Warehouse (Monthly Contracts)