World Series of Poker Texas Hold'em on Mobile Phone
Fancy a bet and love the game of poker with high stakes and edge of the seat betting then this new game for you mobile phone will be right up your street, yes you have the poker chips and the dealer has the cards then all your opponents are around you waiting to bet against you and win your chips but as usual you will have other ideas.
World Series Poker is a very good game in where you go head to head with World Series Poker champions plus you can compete in tournaments against other players on their mobile phones from around the world.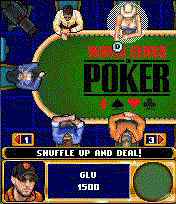 – Cross platform, international multiplayer; a true global multiplayer poker community is born, 2-8 player tournament mode in where you select the number of opponents you play.
– World Poker Advisors
– Play against professional players such as Chris "Jesus" Ferguson and Scott Fischman and other players.
– Mobile gaming at its best without a doubt.