The Emergency Life Mobile Phone for the Older Generation
This is a mobile phone called "The Life Phone" which is designed for the elderly or should we say the elder generation, but we believe this would be a good phone for any ages to tell you the truth. The Life Phone is said to be for people 50 plus who do not want all the high tech specifications.
This new phone has one main feature that can help people and that feature is a BIG RED emergency button built in, the handset has a large screen and larger buttons than normal plus a louder speaker for those who have impaired hearing. So not only is this Life Phone good for the hard of hearing it is also great for partially sighted people as well. The new BIG RED emergency buttoned phone will go on sale around May 2007 across the world.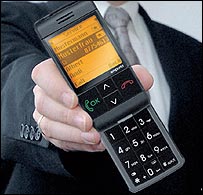 Other Life Phone Features —
– 2.7 inch (6.8cm) mono-colour screen
– Dualband
– Five emergency numbers can be stored
– Basic is what this is – take calls, send and receive text messages and manage your directory of numbers
– Very loud
– Very strong vibration mode
– The BIG Red emergency button is located on the rear of the Life Phone which you can press in case of emergency, once pressed it will call one of the numbers you have stored as your emergency number.
Do you think this mobile phone would suit all ages instead of the over 50's?
Source — Product Reviews