Sony Ericsson MBR-100 wirelessly blasts tunes from phone to Hi-Fi or PC
All mobile phone lovers like a little accessory or gadget and this Sony Ericsson MBR-100 is a little diamond, there are many mobile phone accessories in this world that are pointless and ridiculous with no apparent use, it is just basically for companies to make money and like idiots we go buy them. This is all changing because these big named companies like Sony Ericsson for example have delivered us with a fantastic phone accessory by the name of Sony Ericsson MBR-100.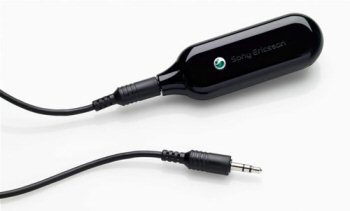 The Sony Ericsson MBR-100 is a little mobile gadget that lets you wirelessly send tunes which are stored on your mobile phone directly to you hi-fi system or PC which is good because most phones sound crap. This little MBR-100 is so simple to use even your cat or dog can use it, simply pair the MBR-100 to your Sony Ericsson mobile and bish bash bosh you're away for sending. The device also enables you to adapt wired headphones to connect by Bluetooth to a mobile phone. Great if you have a large phone you keep in a bag and you already own a wicked pair of wired headphones.
The Sony Ericsson MBR-100 only supports stereo Bluetooth (A2DP) which means you have to make sure your mobile phone has stereo Bluetooth (A2DP), if it does not then do not buy this product. The Sony Ericsson MBR-100 will set you back £40
Source – Ubergizmo