Chargepod Orgy The Most Ultimate 6 way Charger
The Chargepod is the ultimate charger in the world if you ask me, having many chargers for different devices is a pain in the backside, but not any longer. The Charge pod can charge up to 6 devices at any one time, yes all at once baby.
You can charge multiple mobile phones, PDA devices and headsets and any other mobile electronic device, the Chargepod has one power lead and it comes with manufacturer adaptors for your devices.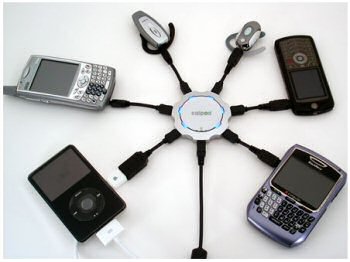 Main Chargepod Features —
– Charge up to 6 devices all at the same time
– Works with mobile phones
– Works with Bluetooth headsets
– Works with PDA's and other mobile devices
– Small, portable and lightweight
– Eliminates the clutter of loads of chargers
– Blue indicator lights up on each port to ensure device is charging
Source — Coolest Gadgets