Goldvish Le million $1,000,000 (£540,540) Guinness Books of Records Most Expensive Phone
The Goldvish Le million is the most expensive phone on the planet and is a masterpiece, basically in addition to the ILLUSION collection there was a limited amount of exclusive mobile phones the PLATO collection. There were only 100 of these phones made and is only available on special request. These Goldvish Le million handsets are of the highest levels of Swiss craftsmanship and precision. Well for $1,000,000 (£540,540) you should not get anything less should you now.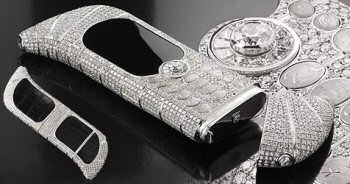 The Goldvish "Le million" is officially the most expensive mobile phone in the world and we know because the Guinness Books of Records says so, the Goldvish Le million $1,000,000 (£540,540) mobile phone has 120 carats worth of VVS-1 grade diamonds. GoldVish also make the 'Illusion', which comes in 15 different incarnations, encrusted with diamonds or not depending on your preference, but always made with at least 140 grams of solid gold. Would you buy one?