Nokia 6300 Mobile Phone & FREE Sony PS3 worth £424 Free
The Link are doing a very special offer at the moment which you DO NOT want to miss, how about the Nokia 6300 on the Orange Network with a Free Playstation 3 thrown in for FREE. We all know that many of us cannot afford to go buy a brand new mobile phone not alone a PS3 worth £424, so why not get the both on contract for as little as £45 per month on an 18 month contract.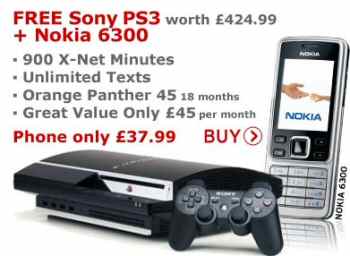 The Nokia 6300 will cost you £37.99 and the PS3 is totally FREE worth £424.
For more details visit — THE LINK