Asus P526 Mercedes Benz: Are all these car model phones boring you?
Asus P526 Mercedes Benz: Sorry to use this phrase but Jesus Christ when will these Car Phones STOP, the reason we are getting bored of these car branded mobile phones is because not only are the phone specs similar to those that have no high branded car logo on them, they are a lot dearer to buy and that is fact. Ok yes we have to say some of these phones do look nice with the logos but you can go to a shop and ask for a skin to cover your phone to what you want.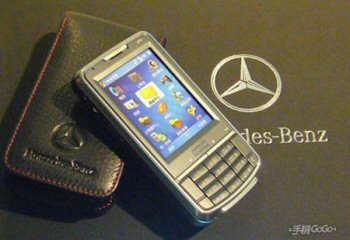 We have done so far a review on the Hummer HT1 and the Porsche P'9521 and now this,
so what has the Asus P526 Mercedes Benz mobile phone got then, well like the normal P526 they are both the same accept for the Mercedes-Benz logo smacked onto it and whoopee it comes with a leather Mercedes-Benz matching case & specially designed box. Here are the specs.
– EDGE/GPRS/GSM 850/900/1800/1900
– Microsoft Windows Mobile 6 Professional OS
– 2.6 inch TFT display, Supports 65K colors, 240 x 320 resolution
– TI OMAP 850 (200MHz) Processor
– MSN, MMS, SMS & Email Messaging
– Bluetooth 1.2
– USB v1.1
– HTTP WAP 1.2.1/2.0
– Built-in SiRF Star III Chip (supports GPS)
– Micro-SD Expansion Slot
– 128 MB Flash Built In – 64 MB SDRAM External (MicroSD)
– JAVA J2ME (CLDC 1.1 + MIDP 2.0)
– 128 Polyphonic MIDI Ringtones
– 2 Mega-Pixel Resolution
– AAC, WMA & MP3 Audio
– MPEG4 supporting 30 FPS QCIF video / Windows Media Player 10
– IE, Word, Excel, Power Point (viewer), MSN, Alarm, Calendar, Organizer, File Manager, Telephone Book, Notebook, InBox, Voice Recognition
Business Functions – Remote Presenter
– 110 x 58 x 15.4 mm
– 115g
– 4 to 5 Hours Talk Time
– 150 Hours Standby
Are all these car model phones boring you?
Source — Just Amp Blog