HTC Mogul: Sprint Announce the new smartphone, is it good enough?
The HTC Mogul you have to love that name the Mogul love it, anyways Sprint have announced the new mobile phone which its successor is the PPC-6700. This stylish slide out mobile phone device will be Sprint's first dual-band CDMA which will also be running on Windows Mobile 6 Professional Edition.
Some of the main features on the HTC Mogul are support for Wi-Fi 802.11b/g and Bluetooth 2.0, obviously Windows Mobile 6, 2 megapixel camera and camcorder and a whopping huge library that will store over 1.6 million songs via their Sprint Music Store's library, plus 512MB microSD Card.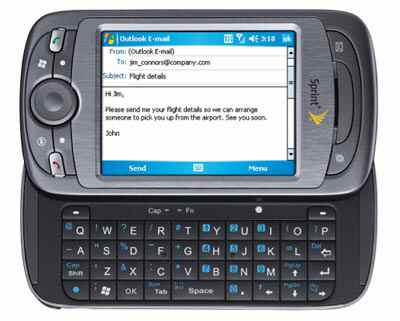 HTC Mogul Main Specifications —
– Full QWERTY keyboard
– Windows Mobile 6 with Direct Push
– QUALCOMM 7500 chipset / 416 MHz processor
– EVDO / REV A-upgradeable
– 256MB ROM / 64MB RAM
– Full Microsoft Office suite with PDF and ZIP viewing support
– Jog Wheel
– Wi-Fi
– Bluetooth v2.0
– 2.0 megapixel camera
– microSD expansion slot
– Windows Mobile 6 vs. Windows Mobile 5.0
– EVDO and Rev. A upgradeable vs. EVDO only
– Internal memory: 256MB ROM / 64MB RAM vs. 128MB ROM / 64MB RAM
– Bluetooth v2.0 vs. v1.2
– 2.0-megapixel camera vs. 1.3-megapixel camera
– 802.11b/g Wi-Fi standards vs. 802.11b only
– 22% thinner than the 6700
– Support for microSD storage cards vs. miniSD
– Longer-life 1500mAh Li-ion battery vs. 1250mAh
– Certificate enrollment
– Storage card encryption
– Device lock in WM6
– Enhanced PIN strength*
– Password/PIN expiration
– User PIN reset*
– Password history*
– Requires Microsoft Exchange Server 2007
The Mogul's multimedia features include a two- camcorder and access to Sprint Music Store's library of more than, starting in mid-July. Users will be able to store media on an included.
The Mogul will be available from Sprint and other retailers starting in July for $399 with a two-year contract. You can buy now via eBay links below.
Source — Phone Arena