EZFetch HD media streamer: Use Nokia N Series mobile phones as remote controls
We have found via the FCC database another superb gadget and we are afraid to say this one is out favourite, oh boy we love this one so much. Before we get into the nitty gritty about this device we just want you to know that you can use a Wi-Fi enabled Nokia Nseries mobile phone device as a remote control to manage and operate the super cool EZfetch features and functions.
Right ok we have got that of our chest now onto what this gadget is all about, ok first of all you can stream content off your networked PC plus which is exciting you can get all your content from your Nokia Nseries devices and then display it onto your TV, now that is awesome.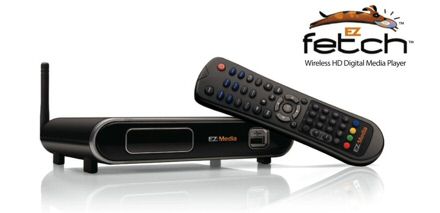 The EZFetch HD media streamer as connections like optical audio, SD composite jacks, Ethernet, DVI-D and built in 801.11g wireless, it also has codec support which is fantastic because it includes XviD, MPEG4, DivX HD, H.264, VOB and WMV.
The reason we had to review this is because the fact the Nseries integration is what really makes this gadget a great fuss to us and is of course the main feature for all you Nokia N Series users.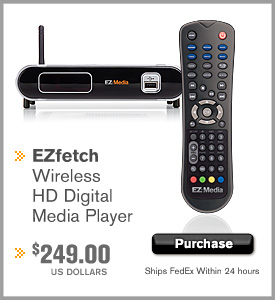 So you can stream content from any WiFi-capable Nseries device using the EZFetch as a remote control, damn we love that. The price according to the picture shown here is $249 but not too sure on availability as of yet.
Subscribe to the Phones Review Newsletter (free) for email updates and news, just enter your email CLICK HERE
Source – EZ 4 Media website
Source – EZFetch FCC listing