Samsung Juke U470 Update: it is personally a pretty boring phone
The Samsung Juke U470 is something we gave you news on a while back now which you can see here, and now we are going to give the good bit and the bad bit about this mobile phone which we are calling the Samsung Juke U470 Update.
Ok so the Samsung Juke U470has a pretty impressive swivel design which does enable you to flick it open 180 degrees to reveal the keypad and yes it does have 2GB of internal memory, is the music player good? We would have to say yes because not only does it sound great but it also supports the most important MP3, WMA and unprotected AAC files.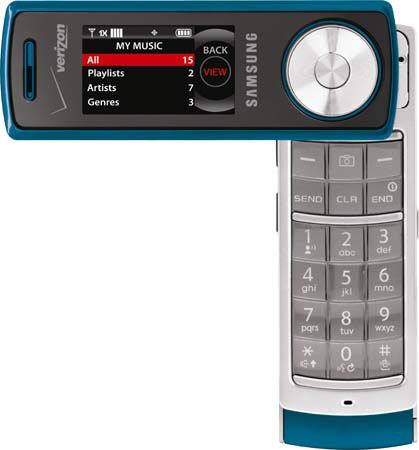 It only has a VGA camera which has night mode and self-timer but it does not have night mode (bored), the phone has Bluetooth stereo and it has the ability to access all Verizon Wireless popular services like Chaperone and VZ Navigator. The Samsung Juke comes in red, blue and teal. Pictures Below –



Some of the Samsung Juke U470 Specs –
– CDMA 800/1900MHz
– 1xRTT
– 97mm x 30mm x 20mm
– 79g
– Up to 10.4 days standby
– Up to 3.5 hours talk time
– 1.45″ 262k color TFT, 128×220 pixel resolution
– VGA Camera with night mode, self-timer
– MMS/SMS
– Bluetooth v2.0 with A2DP (stereo)
– 2GB Memory
– Speakerphone
– Music player
Phones Review we like part — The Samsung Juke U470 (SCH-U740) is a very nice looking mobile phone with sexy looks and unique swivel action, it is definitely a highly fashionable looking device, the mechanical scroll wheel is very easy to use and with having the built in music player makes this phone a very good one.
Phones Review we hate part – The Samsung Juke U470 (SCH-U740) is pretty boring when it comes to the specification front for example it has no V Cast support or come on no 3G. Ok you do get 2GB of internal memory but they could have put an expandable memory slot on it but hell no they did not. Opps no video camera. The major downsides for me as to be you have to turn the phone upside down to be able to read the display screen when it is closed.
Source 1 — Verizon Wireless
Source 2 — Phone Scoop
Subscribe to the Phones Review Newsletter (free) for email updates and news, just enter your email CLICK HERE