LG Rumor is announced by Sprint with an affordable price.
Although the LG Rumor has a midrange appearance the guys at Sprint are launching this new Qwerty style phone at entre level with an enter level style price. The reasonable stylish looks of this phone give its attraction along with an integrated POP3 email client, although it does have a rather slow 1xRTT radio. Other features include media player, microSD expansion, Bluetooth, Sprint navigation, 1.3 megapixel camera.
The LG Rumor is available in 2 colours black/blue or silver, and also incorporates integrated access to Xanga and Facebook. So if you are into email and online communities you'll enjoy this phone. Take a look at the image below to find out if the LG Rumor is your kid of phone.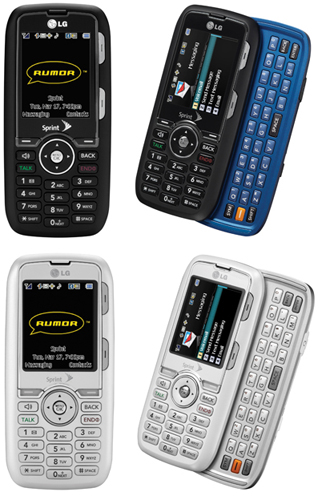 Source – engadget mobile
Subscribe to the Phones Review Newsletter (free) for email updates and news, just enter your email CLICK HERE