Iphone enhancement but not how you'd expect.
So how would you tart up your iphone, maybe add GPS or even A2DP Bluetooth perhaps, or would you prefer to add some sparkler another way. Maybe if you have a spare $40,000 you could encrust it with diamonds. Well Amosu customise mobile phones in 18k gold or white gold, and can also encrust the iphone with 420 diamonds which total 5.65 carats. Amosu are currently pushing their iphone as the first diamond encrusted Apple iphone available.
Although if you are one that requires the lastest fashion in iphone decoration then dig deep tinto your wallet or purse because this baby is going to hit for a minimum of $41,225.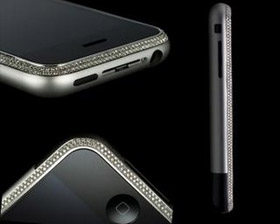 Source – amosu.co.uk
Subscribe to the Phones Review Newsletter (free) for email updates and news, just enter your email CLICK HERE