BT Studio 3500 Quad phone with Answer Machine
How about a great looking quad phone set with answer machine, so you can place a phone in four rooms? This is the Studio 3500 quad phone set with answer machine in bright silver with a grey display screen.
The BT Studio 3500 Quad has square base units of which the main base is the answer machine. This quad set  has 50 name and number memory, 10 last number redial, 40 call log, and secrecy button along with many more features that are listed below.
You can grab a great deal on the BT Studio Quad at the moment at Argos who are selling for £69.99 saving you £15.00 on the original price of £84.99, and can be delivered usually in 2 working days subject to stock availability.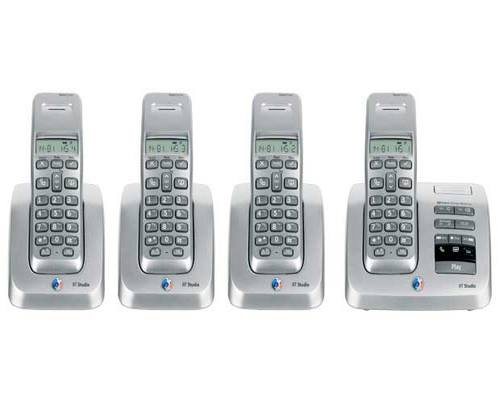 ·         5 monophonic ringtones.
·         Remote access from any touchtone phone.
·         Alarm.
·         Clock.
·         Call waiting.
·         Incoming ring personalisation.
·         Ringer volume on handset.
·         Display – black and white 14 segment.
·         Caller ID.
·         Keypad lock.
·         Message playback from base and handset.
·         Call transfer.
·         Up to 10 hours talktime.
·         Up to 160 hours standby time.
·         Silver.
·         Cordless.
·         13 minute recording time.
·         Up to 300 metres outdoor range (in ideal conditions).
·         Up to 50 metre indoor range.
·         Requires 2 x AAA rechargeable batteries (supplied).
For further information and to purchase please click here
Subscribe to the Phones Review Newsletter (free) for email updates and news, just enter your email CLICK HERE