BT Mango Quad phone Pack with Answer Machine
Now here's a stylish looking quad pack of phones from BT, the Mango quad pack in white with an exotic orange mango trim and bases, the main square base being an answer machine. The display of these phones is a contrasting black, and some features are, 225 name and number memories, up to 9 hours talk-time, up to 72 hours standby time, plus many more which are listed below.
Argos are currently having a fantastic deal on the BT Mango Quad Pack, offering it at half price for £69.87, original price being £139.75, and can deliver usually in 2 working days subject to stock availability.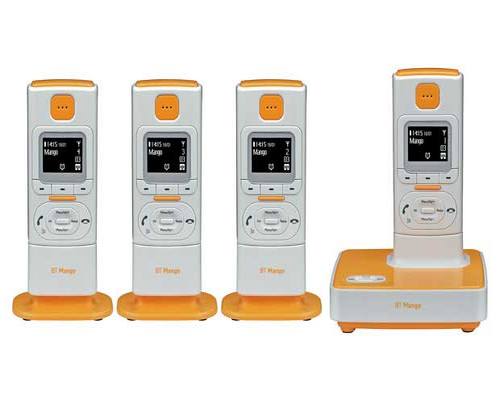 ·         20 last number redial.
·         50 call log.
·         Caller ID type 2.
·         10 polyphonic ring tones.
·         5 monophonic ring tones.
·         Ringer volume control on base and handset.
·         11 minutes answerphone with remote access.
·         Message playback from handset.
·         Hands free/speakerphone.
·         SMS.
·         SIM card reader and SIM card writer.
·         Call timer.
·         4 line inverse black and white illuminated LCD display.
·         Secrecy button.
·         Clock.
·         Alarm.
·         Incoming ring personalisation.
·         Keypad lock. 
You don't really want to miss out on this colourful set so please click here
Subscribe to the Phones Review Newsletter (free) for email updates and news, just enter your email CLICK HERE