Sony Ericsson PSP: Concept Phone
Do you love to play games on your mobile phone? Well although it's only a concept design Sony Ericsson are bringing out a gamers mobile that looks like the Sony PSP.
I am not sure what the quality is like on the new phone but I am sure they will be nothing like the PSP!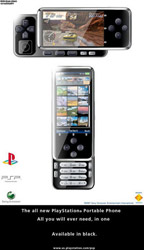 In my opinion this is a silly design, why would people want to splash out on a gaming phone?
Do you think the Sony Ericsson gaming phone will be for you?