Nokia 6300 mobile phone and Free 7373
The Nokia 6300 is a tri band mobile phone with a stunning stainless steel casing and classic design. The 6300 measures 107 x 44 x 13mm and weighs 91 grams. It incorporates a 2 megapixel camera, MP3 player and supports Nokia PC Suite; it also has a to-do-list, alarm clock, countdown timer, and calendar.
Vodafone have several tariffs for the Nokia 6300, one of which is – £30 — 18 months with £15 for first 3 months, 300 anytime minutes and 500 inclusive texts, a FREE Nokia 6300 plus a FREE 7373.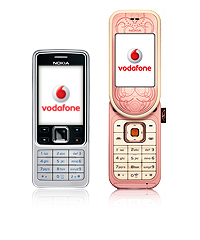 ·         Voice Activated dialling
·         FM Radio
·         MP3 player
·         Polyphonic Ringtones
·         Games
·         Bluetooth 
To check out further deal and tariffs or to purchase this offer please visit Vodafone
Subscribe to the Phones Review Newsletter (free) for email updates and news, just enter your email CLICK HERE