Nokia N73 mobile phone with Free Bluetooth headset and 2GB Memory card
The Nokia n73 is a great little camera phone that has a 3.2 megapixel camera with Carl Ziess optics. The N73 has a sharp 2.4 inch screen allows you to view your images and surf the web with ease; while Infra-red, Bluetooth and USB connectivity allows easy uploading of files to your PC, and the Nokia N73 isn't an oversized camera phone either, measuring in at 110 x 49 x 19mm.
How about having a Nokia N73 on the 3 Network, well The Link has some great tariffs combining the Nokia N73 with 3 Network, one of which is, Mix n Match – £24 — 18 months, 900minutes and 900 texts per month, FREE Nokia N73 handset with FREE Sandisk 2GB MiniSD memory card and Jabra BT125 Bluetooth headset.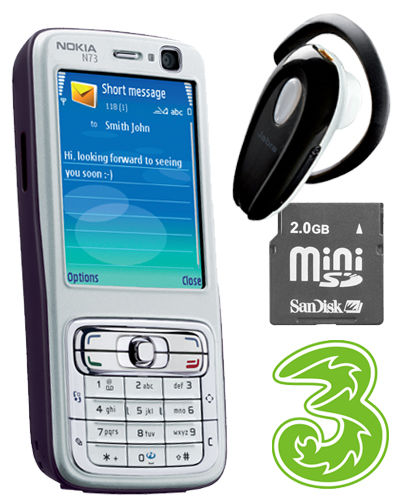 Rush along and grab yourself a great deal on the Nokia N73 at The Link
Subscribe to the Phones Review Newsletter (free) for email updates and news, just enter your email CLICK HERE