Pharrell Williams targets iPhone for gold gilding
Pharrell Williams the guy who had a solid gold BlackBerry 8700, well he's found out that gold happens to last a tad longer than the inner workings of a mobile phone. But beings Williams seems to have more cash than he knows what to do with the simple answer is to pull out your chequebook and have a new one coated in gold, this time an iPhone.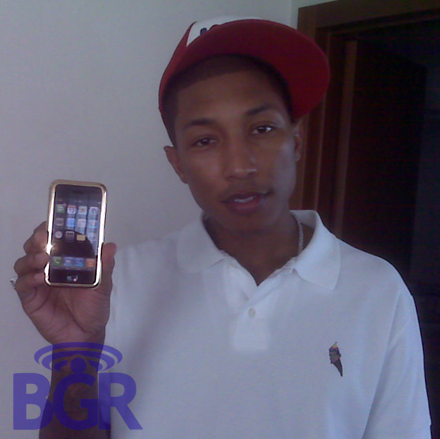 Williams' iPhone is no less than 18 Karats but this time, unlike its predecessors it has a black plastic piece at the back so he can actually receive a better signal, as believe it or not completely coating a mobile phone in gold does affect signal. And why Williams' actually does this with his phones is well, you'd have to ask him. And how much does this kind of extravagance cost? Haven't a clue, but way more than most of us can afford that's for sure.
Source — Boy Genius Report
Subscribe to the Phones Review Newsletter (free) for email updates and news, just enter your email CLICK HERE