iriver GSM unlocked phone at CES 2008: Apple iPhone watch your back
Apple iPhone will have to watch their back, the reason we say this is because iriver have a brand new unlocked phone that has been featured at this years CES and many say it is an iPhone-esque handset.
River have indeed been pushing a fair few products at CES and this one really has our attention, the new iriver GSM phone is a handset that will be much more affordable than that of the Apple iPhone and is heading for the states.
The iriver GSM phone features a 3 inch 480 x 272 touchscreen, 4GB of flash storage, Linux-based UI that near enough mimics the iPhone features, Rhapsody and other media support, Adobe Flash support, 2 megapixel camera with video (Ah get a load of that Apple, a video), mobile TV and GPS.
We are not sure if this phone comes with WiFi or 3G but what we do know is that the new iriver GSM mobile phone is going to the states, Owen Kwon who works for Iriver has said that this new phone will defiantly be more affordable than the Apple iPhone.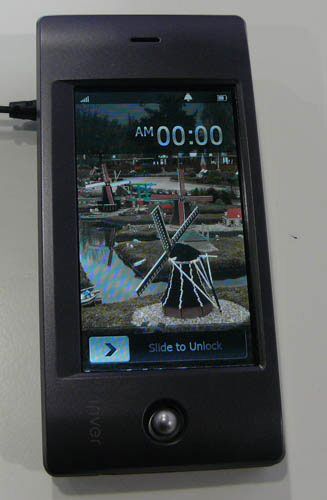 No word on release or price as of yet but we will keep you posted.
Get Phones Review delivered by email for news updates — Get our newsletter