MOTORAZR2 V8 Luxury Edition available now for $679.99
This news comes straight from the CES stand, Motorola are now letting you pre-order their stunning MOTORAZR2 V8 Luxury Edition with the snakeskin feel mobile phone for $679.99.
Available from the 31st January from the MOTO Store the luxury edition Motorola MOTO RAZR 2 will include a matching H680 headset; the makers of the phone used all their flare at the CES 2008 Show to announce this luxury handset.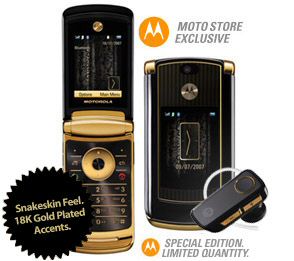 The MOTORAZR2 V8 Luxury Edition mobile phone works on GSM networks if you are on Sprint or Verizon of course. Will you buy this expensive baby or not is the question. Please visit the MOTO Store for more info, pics and video here.