Motorola MOTORAZR V3 phone at Carphone Warehouse on Virgin Mobile
From Motorola comes the MOTORAZR V3 now available in lilac which sets it apart from the others. The beautiful MOTORAZR V3 is again a flip open style with interior and exterior screens and is only 14mm thick.
As with the other RAZR's the keypad is nickel plated copper alloy chemically etched and easy to use.The V3 Lilac offers a great little video player, Bluetooth compatibility, polyphonic ringtones, and quad-band coverage. With the V3 there is a clever change in the way the phone charges now from a mini USB so you can charge your phone while being connected to your computer.
You can pick up the Motorola MOTORAZR V3 at the Carphone Warehouse who have it on offer with Virgin Mobile with a tariff of Virgin Mobile – £25 — 12 months, 150 minutes and 150 texts per month, FREE Voicemail, FREE one month's insurance, and a FREE Motorola MOTORAZR handset in lilac.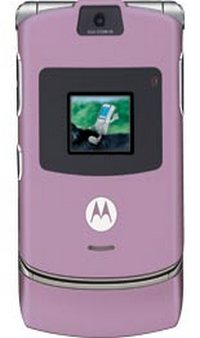 Bluetooth
WAP
Faster data with GPRS
Camera phone
Colour screen
Polyphonic ringtones
Vibrating alert
Voice dialling
Speakerphone
World phone (Quad-band)
Picture messaging
Require more information or to purchase the MOTORAZR V3 please visit the Carphone Warehouse
Subscribe to the Phones Review Newsletter (free) for email updates and news, just enter your email CLICK HERE