The RTX Dualphone 3088 cordless Skype phone
This is the RTX Dualphone 3088 cordless phone which allows you to make calls via Skype or a land line without the need of a computer. It has a LCD display where you will see a list of your preferred Skype buddies who are currently online and with the phones easy functionality making Skype and Skype Out calls can't be any simpler, all you need to do is select the contact or dial the number, and then take the option of either Skype Out or normal phone call.
The RTX Dualphone 3088 includes base, cordless handset and a charging dock, to use all you need to do is plug the base into your router and landline then plug the dock and handset inot a power socket and you're ready to roll.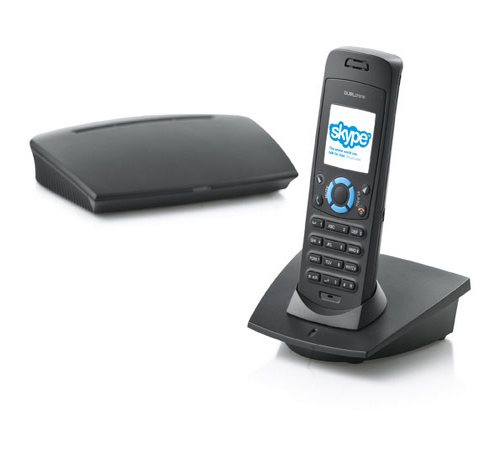 ·         Skype Software is Upgradable Via Handset
·         Call Forwarding and Call Waiting
·         Broadband Router needed
·         DECT Communication between handset and base station (the Digital Enhanced Cordless Telephony standard)
·         Dialing via Internet: Skype to other Skype users free unlimited calls anywhere in the world Dialing via SkypeOut to standard telephone numbers
·         Dialing via PSTN (requires a telephone subscription with a telecommunications operator)
·         Distinctive ringing distinguishes between standard telephone and Internet calls ·         PC and Mac Compatible·         Range: Indoor up to 50 metres / outdoor up to 300 metres·         Talk time / Standby time: up to 6.5 hours / up to 100 hours
All instructions on how to use the RTX Dualphone are included making your experience easier.
Subscribe to the Phones Review Newsletter (free) for email updates and news, just enter your email CLICK HERE