BlueAnt announces latest Bluetooth gear the BlueAnt V1 and BlueAnt M1
Two new Bluetooth products have just been announced by Bluetooth accessory maker BlueAnt. First up is the BlueAnt V1, a Bluetooth 2.1 certified voice controlled Bluetooth headset. The V1 uses Sensory's BlueGenie Voice Interface tech that lets the user use the most common functions of their mobile phone without the need to press buttons. It also uses BlueAnt's voice isolation tech for when in use in noisy locations, and has dual microphones for pure speech along with inner and outer ear speaker gels, multi-point support, and battery power which can give up to 200 hours standby and up to 6 hours talk. The BlueAnt V1 will cost somewhere in the region of $119.00 USD.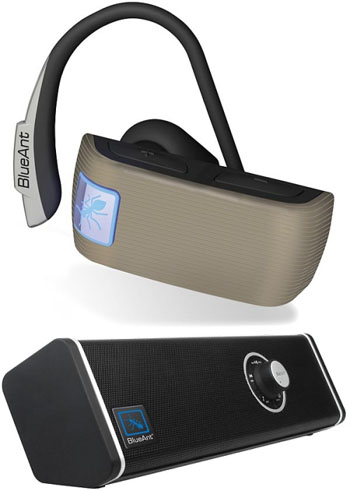 Then there is the BlueAnt M1, which is a very powerful Bluetooth speaker with 28 watts RMS with other features such as A2DP support, standard audio jack input, built-in subwoofer with bass boos button, AC adapter and carry case with car charger, and should retail at roughtly $199.00 USD.
Source — Intomobile
Subscribe to the Phones Review Newsletter (free) for email updates and news, just enter your email CLICK HERE