HTC Clio 100 & 200 is in fact the HTC Shift in GSM and CDMA
It seems that we have had wool pulled over our eyes, we are talking about HTC FCC filing for an HTC Clio. The versions are HTC Clio 100 and 200 which is in fact 2 versions of the HTC Shift in GSM and CDMA.
The FCC filing in fact shows a landscape oriented QWERTY slider phone that many have said was the speculated HTC Advantage/Athena, well the light has shined and FCC have finally posted some exterior photos of the HTC Clio 100 and 200 (HTC Shift).
Are we glad that we have seen this? Hell yeah of course because this means tat the HTC Shift will be hitting most national carriers in the US, the GSM version will have HSDPA and the CDMA version looks to have EVDO Rev.
You know we want to get our hands on these phones so we can give it a low down, below are some of the main specs just to keep you going. So please enjoy.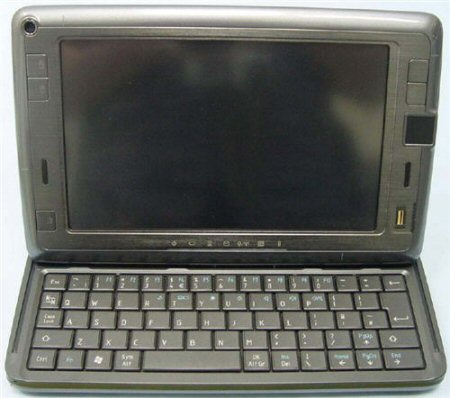 HTC Shift specifications —
– 1 GB DDR2 RAM for Windows Vista + 64MB of RAM
– Qualcomm® MSM 7200, 400MHz chipset for GSM/HSDPA version
– Qualcomm QSC6085 chipset for CDMA/EVDO version (Possibly)
– Intel® Stealey 800MHz + Little River (945GMS) + ICH7U
– 64 MB RAM and 128 MB ROM for SnapVUE
– Color CMOS VGA camera for video conferencing
– Windows Vista Business OS
– 40 or 60 GB 1.8? HDD with optional G-Sensor shock protection
– Internal GPS
– 7? 800×480 pixel 262K color touch sensitive TFT LCD
– VGA out post and 3.5 mm stereo audio out with microphone
– Hotswap SDIO port
– Bluetooth, Wi-Fi b/g, USB 2.0 connectivity
– Windows Vista® operating time: Up to 2 hours
– SnapVUEâ"¢ standby time:
* (Push e-mail enabled): Up to 11 days
* (Push e-mail disabled): Up to 53 hours
– Rechargeable Lithium-ion polymer battery, 2700 mAh
– Cellular connectivity:
For GSM/HSDPA networks:
* Quad-band GSM/GPRS/EDGE 850, 900, 1800, 1900
* Tri-band HSDPA/UMTS: Europe/US: 850/1900/2100, Japan: 800/2100
* HSDPA: Up to 3.6Mbps for download, 384kbps for upload
* UMTS: Up to 384kbps for download and upload
– For CDMA/EVDO networks:
* CDMA2000 1xEVDO/1xRTT.0A (850/1900)
Now the question is will Sprint, AT&T or Verizon win the phone? Let the games begin.
Get Phones Review delivered by email for news updates — Get our newsletter