Samsung i900, 5 megapixel mobile phone leaked
Here we have new of yet another Touch-screen mobile phone by Samsung being leaked, this time it's the Samsung i900 which is to feature the Windows Mobile 6.1 operating system, and have a nice 3.5 inch tough screen with a resolution of 240 x 400 pixels.
The Samsung i900 will also incorporate features such as GPS, FM radio, a 5 megapixel camera, Wi-Fi, 7.2 Mbps HSDPA, and Bluetooth v2.0. It is expected to have an expandable memory via a microSD slot which is to support microSDHC cards as well, and all encompassed within 112 x 56 x 12.5 mm casing.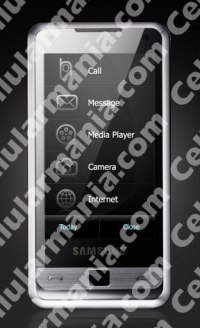 It will be interesting to see if the Samsung i900 is debuted in February at the Mobile World Congress.
Source – kataweb
Subscribe to the Phones Review Newsletter (free) for email updates and news, just enter your email CLICK HERE