Samsung X830 Pink with free Garmin Nuvi 610T Sat Nav offer
The X830, Samsung's mini MP3 phone is Samsungs latest music orientated phone which has an innovating MP3 design, with a unique swing open style which allows for a superb combination of MP3 player and mobile phone function.
While then Samsung X830 is in the shut position it functions as a MP3 player with horizontal display list and equaliser settings. Only the Samsung X830 and you are faced with a keypad witch virtually doubles the length of the phone.
The X830 by Samsung is available at The Link on the Orange network with a tariff of Dolphin – £35 — 18 months, 500 minutes and 3000 texts per month, a FREE Samsung X830 handset in pink, and a FREE Garmin Nuvi 610T Sat Nav.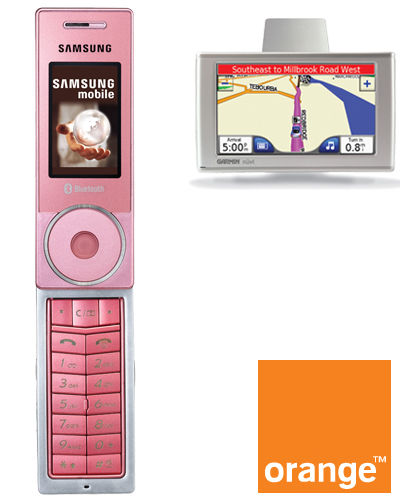 · Dimensions: 84 x 30 x 20mm
· Weight: 72g
· WAP 2.0
· Tri-band
· Memory: 1GB
· Camera: 1.3 megapixels
Receive free next day delivery when you purchase the Samsung X830 Pink mobile phone.
For further information on this superb offer on the Samsung X830 Pink and other great deals please visit The Link.
Subscribe to the Phones Review Newsletter (free) for email updates and news, just enter your email CLICK HERE