BT Graphite 1100 Quad Cordless home phone set "energy efficient phones"
This is the 1100 , a set of four cordless home phones in graphite colour with grey display from BT, why run to another room to answer a call when you can locate a phone in any room. With a single press of a button you can use the hands-free option which allows you to use both your hands to do whatever you are doing while still on the phone.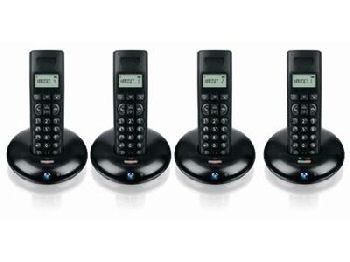 · 10 Last number redial
· Call Waiting(1)
· Secrecy facility
· 5 handset and 5 base ringer melodies
· Alarm setting
· Earpiece volume control
· Base and handset ringer volume control
· Handset power on/off
· Keypad lock
· Up to 10 hours talktime and 100 hours standby time(2)
· Range of up to 300 metres outdoors and 50 metres indoors(3)
Multi-handset:
· Internal calls
· GAP compatible – register up to 5 handsets to one base
· 3-Way calling
· Call transfer
Pack contents:
· 4 x BT Graphite 1100 handsets
· 4 x BT Graphite 1100 base
· 4 x Mains power adaptors
· 8 x NiMH AAA rechargeable batteries
· 4 x Battery compartment cover
· Quick Start Guide (also see resources)
· Telephone line cord
This home phone is part of "energy efficient phones" and is available at the BT Online Store.