Nokia 6210 Navigator is back and updated
Yep the Nokia navigator has been re-released, and this time is has been updated with 3G. The 6210 Navigator succeeds the 6110 and is a slider handset that relies hard on giving you directions to where you want to be.
And to accomplish this it has a new feature, the just announced Nokia maps 2.0 application, which not only provides typical auto-navigation but pedestrian as well. The Nokia 6210 Navigator also sports an integrated accelerometer which keeps the map continually updated when you are on foot.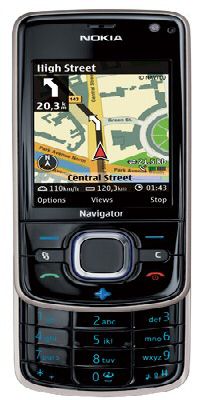 This S60 third edition mobile phone also features a 1GB microSD card, Bluetooth 2.0, FM radio, 120MB internal storage, and a 3.2 megapixel camera; and an exciting new feature is it can be used for navigation without a SIM card!.
The Nokia 6210 Navigator will be available in four versions, three with varying HSDPA and one with EDGE and can be expected in Q3 with an estimated price of approximately $435.
Source — engadgetmobile