Explorer 370, a ruggedized Bluetooth headset from Plantronics
Ruggedized handset are popping up fast, but so far we haven't seen a ruggedized headset, and why should we unless it's to just match your touch mobile phone. However, Plantronics thinks otherwise and are bringing out their Explorer 370 Bluetooth headset.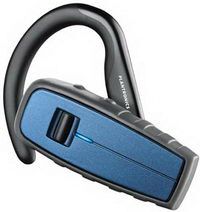 The Explorer has a durably body which is shockproof, dustproof, and waterproof, and incorporates excellent audio clarity with controls that answer and end, last number redial, volume, and voice activated dialing, and all at the touch of a button.
So if you fancy a hard-case tough Bluetooth headset the Explorer 370 will set you back somewhere in the region of $69.95, or if you want it with in-car charger $79.95, but you'll just have to wait for March b to get hold of it.
Full Press Release here