Free Geocache Navigator for S60 Nokia handsets: Video
Trimble, while at the Mobile World Congress announced an ad supported version of their Goecache Navigator app will be free to select S60 Nokia mobiles with GPS. Devices such as the Nokia N95, N95 8GB and Nokia 6110 Navigator can use its GPS to look for the caches using a radar type interface which will guide the user to their destination.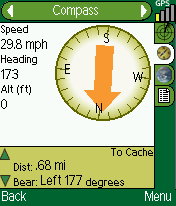 Also, phone screens with provide speed, heading, location, compass based navigation maps, cache descriptions, logs, distance and hints along with other useful varying information. So what is Geocaching, well it's a bit like a high technology treasure hunt which is quickly spreading across the globe.So that you can learn more about Geocache Navigator there is a demo video below.
Source — intomobile