Symbian UIQ mobiles get DreamLife
DreamLife, an intuitive activity manager has recently been released by DreamSpring and the new application combines DreamConnect 3 with an easy to use calendar to bring a complete personal time and contacts management solution.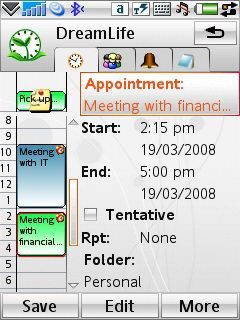 This new contacts and calendar combination creates an excellent application which means the user can link their contacts to a specific calendar date, something which had been lacking in most calendar applications for a while.
DreamLife also has a time saving 2-pane editing option which allows the user to view where new activities can slip into an existing schedule, and several other superb enhancements too, but best of all the application is finger friendly. The application costs 21.95 EUR if upgrading from DreamConnect 3 or 42.95 EUR if not.
Source – intomobile