NTT DoCoMo selling Panasonic P905i Viera phone: Main specs
Finally some good news for those wanting the Panasonic P905i Viera phone, this is just an update on this mobile phone which we told you about when it was at the MWC (See Here), the latest news is that NTT DoCoMo are selling this handset.
The high res Panasonic P905i Viera phone is finally on sale and it seems the spotlight is full on in its face, just an update on the main specs just in case you have forgotten include with the first one that sticks out the most the phone's Viera image processing and 3.5 inch, 854 x 480 screen.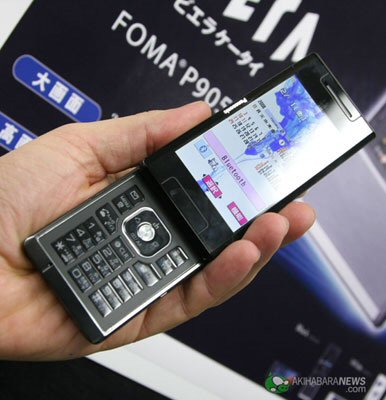 We see this being a very good thing for those who love the PMP features including a 1seg TV tuner, you will also see the usual 3G capabilities, 1GB of built-in memory, 2 megapixel camera plus the cool support for the DCMX iD mobile banking service.
We do not know the price of the Panasonic P905i Viera phone with NTT DoCoMo, but what we do know is "Have plenty of money to buy one".
Source – Akihabara News