Get the iPhone vibe before the iPhone ring
Feel your iPhone handset vibrate before it rings, a simple way to achieve this. As an iPhone user you can also choose a range of ringtones including custom, and sound for your handset; choose to have it vibrate and ring, or even have it vibrate only, but what you can't choose is to have your iPhone vibrate first and then start to ring.
But now you can by using some simple customising magic…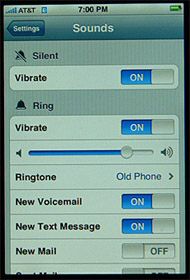 Firstly you create your own customer ringtone from an MP3 or AAC file. Insert a 5-10 second section of silence into the beginning of the track. Then convert and upload your ringtone with iToner, Nakko, or any other iPhone ringtone utility. Next choose the newly uploaded ringtone as your, um, ringtone. Job done, set your iPhone to ring and vibrate.
Next time your iPhone is called it should vibrate for approximately 5 to 10 seconds before sounding the ringtone. See so easy!
Source — iphone.macworld