Firmware updates Motorola Q9m K1m and T-Mobile W490
Even with their problems still eating away at the Motorola continues to keep their existing customers updated. They have just released set of firmware updates for Motorola mobiles which are Verizon Motorola Q9m Windows Mobile 6.0 smartphone, the K1m mobile and T-Mobile Motorola W490.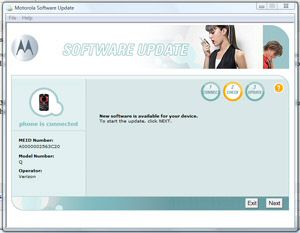 This latest update boosts your existing Windows Mobile installation AKU 0.2 up to the newer AKU 0.6, and also updates the baseband radio to version 03.20.29P, just what this means I'm not too sure, but the update is available so must do some good.
Moto has bumped up the Verizon Motorola K1m with the latest update being 01.19.08 along with the T-Mobile W490 but as yet the T-Mobile firmware doesn't have a number that we are aware of. So if you fancy any of these firmware update then head of over to the Moto website…here… and simply enter your details.
Source — phonenews