Native iPhone has working MySpace app
MySpace, yes that all popular social network are in the midst of developing a native iPhone. Any details at present are somewhat sketchy to say the lease, but MySpace will apparently be launching an Apple sanctioned application which will no doubt tie you up for many hours of your day. However, although the details are being kept close to their chests, the product has been describes as impressive when compared to present day mobile versions of the social networking site.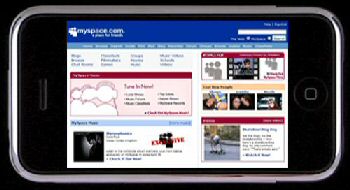 However, as flash support is needed for music and video via MySpace it's not that likely. But as they say "never say never" it is plausible that just maybe at the iPhone Software roadmap event Apple and Adobe may announce an iPhone flash. I wonder if Apple and MySpace will want to charge for the native iPhone app.
Source — electronista