LG new fashion mobiles leaked KF240 and KF310
Thanks to Czech website Mobil.cz we now have an image depicting both the LG KF240 and LG KF310, the LG KF240 already being covered here. But now we have the LG KF310 to compare it too. Well as you can see from the image there isn't a great deal of difference between the two in looks, and both are slider handsets.
The LG KF310 has a 2 megapixel camera, while the LG KF240 has a 1.3 megapixel camera, MP3 player software, microSD memory card slot, and stereo Bluetooth. Size wise the LG KF310 comes in at 97 x 48 x 17mm with a weight of 102 grams. So it's looking as if there isn't much between these two fashion handsets; both look classy and stylish even though they sit in the low-end range. All that's needed now is for LG to actually announce them!!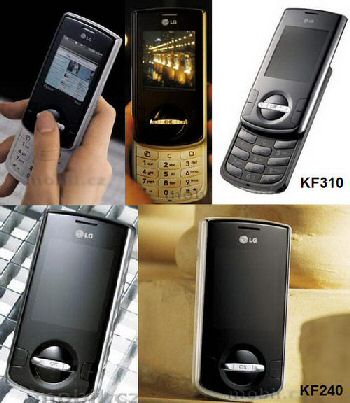 Oh a note: The other post on the LG KF240 states it has a 2 megapixel camera when in truth it has a 1.3mp. Sorry about that, but at the time the information available did say 2mp; just so you know.
Source — unwiredview