BT Domus Quad Digital Cordless Answer Phone
This is the BT Domus and it is said to be the ultimate in home phone technology, it has enhanced audio sound which is coupled with a stylish design.
It delivers a rich and crisp sound capability on calls and is finished in a shiny black glass casing. It has a 255 name and number directory and a SIM card reader (it is not compatible with 3 Network SIM cards) and also has called ID. It has up to 12 minutes of recording and remote access on your answering machine.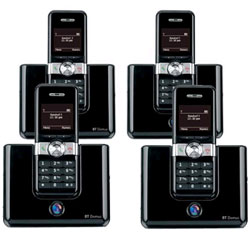 Features:
– SIM card reader (Not with 3 Network SIM Cards)
– Caller ID & call waiting
– Handsfree capabilities
– Enhanced audio quality
– 5 polyphonic & 5 monophonic handset ringer melodies
– 3-way conferencing
– GAP compatible (up to 5 handsets)
– Up to 12 minutes record time
– Voice prompts
– Text messaging with T9 predictive text
– Remote access
– Message playback through handset