Radtech Apple iPhone headset stylish and cheap
Got yourself an Apple iPhone and need a sexy set of headphones? You could go for some of the high-end headphones with a price tag of $100.00, but who really wants to fork out that kind of cash on headphones? Many can't afford them anyway so need to look for a cheaper alternative, and so in steps Radtech with their ProCable in-ear iPhone headphones.
Some specs for you to help you choose:
– Weight: 13g
– Available Colours: White – Black
– Mic Orientation: Left
– Mic Response (In): -55 / -60 dB
– Freq Response (Out): 20 / 17,000 Hz
– Driver Type / Size: Dynamic / 10mm
– Connector Type: 4-conductor 3.5mm
– Sensitivity: 113 – 119 dB
– Impedance @1kHz: 32 Ohms
– Isolation: 18dB
– Maximum [Clean] Output: 110 dB/mW
– Cable Length: Avg 1.2m / 46in Asymmetrical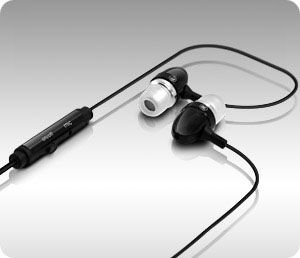 And you know the best spec of all? They cost $24.95, and available with other low priced accessories such as replacement ear tips at £4.95 for a 6 pack and audio splitter cable at $6.95.
Source — gizmodo