Silver Samsung G600 O2 Clearance Deal
The Samsung G600 without a doubt is a superb phone; the styling is both sleek and smart. The silver colour seems to add a little elegance to this handset over the darker colours that are on the market.
The handset has a 5 megapixel camera; the Samsung G600 is an all rounder, great for imaging, Java and music. The handset supports both TV Out and Bluetooth.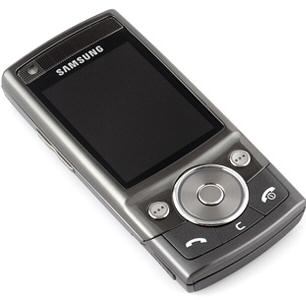 Specifications:
– 240 x 320 pixels
– 16M colours
– 2592 x 1944 pixels
– 5.0 Megapixel
– Autofocus
– Image Stabiliser
– Video and Flash
– 55MB user memory
– microSD
– Bluetooth
– Email client
– HTML browser
– Java
– GPRS
– MP3 ringtones
– Dimensions
102 x 47.8 x 14.9 mm
– Weight
105 g
Deals
O2 Unlimited Calls O2 to O2
(18 months) Unlimited Calls O2 to O2 £25 Auto Cashback
or 14 months 1/2 price
Monthly Fee: £15.00 Free
O2 400
(12 months) 400 mins anytime including Xnet
+ 500 texts £100 Auto Cashback
Choice of free gifts
£35.00 Free
O2 200
(18 months) 200 mins anytime including Xnet
+ 200 texts £100 Auto Cashback
Choice of free
Monthly Fee: £25.00
O2 600
(18 months) 600 mins anytime including Xnet
+ 500 texts £175 Auto Cashback
Choice of free
Monthly Fee: £35.00
To benefit from these offers visit: Mobiles.co.uk