Three new CDMA mobile handsets from Kyocera
Kyocera has mainly been seen as a low-end mobile handset manufacturer, and they seem to like being seen just like that. Although their latest CDMA batch probably won't come as a big surprise to anyone. Not much to speak of with the three new handsets as they can still be considered low-end.
First they offer the Neo E1100, with Bluetooth 2.0, BREW, 2.2 inch QVGA display, 1.3 megapixel camera and hidden OLED out display.
Second offer is the Mako S4000, comes with Bluetooth, BREW, VGA camera, and two screen with the inner screen being 1.8 inch.
Lastly the Adreno S2400 which incorporates BREW, external caller ID display and 1.8 inch screen, and a total lack of camera.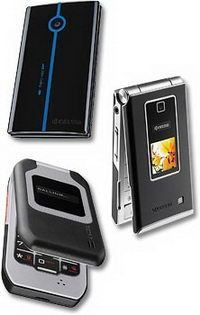 Probably one of these will end up being offered as free on a deal with Alltel or maybe Virgin Mobile USA.
Source — phonescoop