BlackBerry gains hit mobile game Guitar Hero 3: Video
Magmic Games and Hands-on Mobile has brought the hit Guitar Hero 3 game, a game that has had 7.5 million songs downloaded to mobile handsets over the last six months, has brought this game to the BlackBerry Platform.
The Guitar Hero 3 mobile game software can be picked up on two tariffs; a subscription of $4.49 give the user 15 tracks up front with the continuing charge of $4.49 will add 3 songs to your track list per month.
Then Magmic also has a plan where the user can purchase it outright for $14.99, and this will add 3 songs per month while the initial track list feature titles and artists like Van Halen's You Realy Got Me, Santana's Black Magic Woman, and a touch of Black Sabbath with their Paranoid.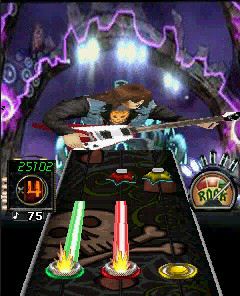 As business people prefer the BlackBerry maybe it wasn't such a good idea to allow them to download Guitar Hero 3 to their BlackBerry device, as surly corporate productivity will suffer as users play rather than work. Having said that, this will bring hours of joy, and maybe a little pain to your BlackBerry handset.
Check it out by viewing the video below
Source — bplay