Triforce Touch-screen patent pending mobile phone
Triforce, a Swedish company is introducing a patent pending touch-screen pointer mobile handset; it looks somewhat weird but according to Triforce the handset is more usable if used with a lanyard. However Triforce do not envisage seeing their new handset being in stores at this stage, they are rather targeting businesses which might use the lanyard pointers as materials for marketing.
Currently there is no pricing tag available and the same on availability. But maybe some companies may wish to take this route with the Triforce, giving them away at various corporate events.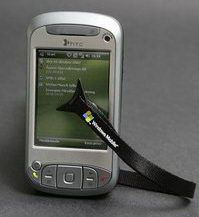 Source — gizmodo