Leaked thumbnail pictures of Sony Ericsson Z780: We want more
Sony Ericsson Blog have a leaked picture of the Sony Ericsson Z780, the one picture shown here shows little thumbnails of the mobile phone at different angles.
We know that the Swedish-Japanese mobile phone maker is prepping a new launch of a brand new mid-range flip phone called the Z780, the Z780 apparently features QVGA (240×320 pixels) display, it looks a lot like the Z770i, Browser NetFront 3.4, Available in two colours: Amethyst Silver and Grand Onyx, XML profiles found on Sony Ericsson's WAP site indicate there will be two versions: Z780i for Europe and Z780a for North America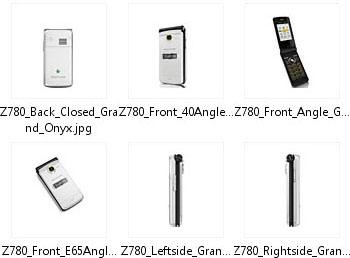 As usual the release date is not know as of yet nor the pricing. Join our newsletter below to be kept updated.